My new SeaArk 1872/MagicTilt Trailer was delivered this wee. The deal is finished with the rigging and now my part begins. Lots of electrical upgrades in the mill. I'm going to replace the 4 position switch panel with a Blue Sea 8 Sw/CB panel. When the T-top goes on after Christmas, it will have Lumitec flood lights for the fore and aft deck. I havnt decided on where I'm going to hang the sonar screen, from the T-top or do a console mount. It's a 10" screen so I'll have to wait until the top is on and see what makes sense. The Fusion Stereo and the VHF gets transferred from my old trade in, will add an hour meter and also USB charging and 12V outlet.
On the back end, it gets a second battery or the trolling motor and electronics, a Blue Sea ACR to charge batteries simultaneously, and a on/off battery switch to combine batteries for emergency starting. I'll epoxy starboard mounting pads under the console to attach terminal strips and bus bars so I don't have to drill holes in the console. I'll update this thread as the work progresses.
My new SeaArk 1872 was delivered yesterday, and Aaron and his guys at Action Marine in Austin jumped on it. It is now rigged and waiting for the funds to get put in the appropriate account, and it's a done deal.
Start Battery and Racor filter installed
Motor and JackPlate mounted
Hydro Dynamics Rapid Jack Manual Jack Plate
This is how the riggers drill perfected spaced holes, and we though they were just eyeballing it.
Just delivered and waiting to be rigged
Bow deck. This thing is almost big enough to dance on. There's storage under the step and under the larger hatch is the 30 gallon gas tank. The hatch for the anchor(not shown) well wasn't an option on my model, but we convinced SeaArk to send me a hatch and I'll cut a hole for it.
I also orded it with no live well or box in front of the console. A cooler with a seat cushion will provide extra seating when required. I ordered the boat in that configuration because I wanted the additional area in front of the console.
The view from the rear. The console looks kind of bare with no grab rail, but it's getting a custom T-Top right after the first of the year at Custom Marine Concepts in Houston.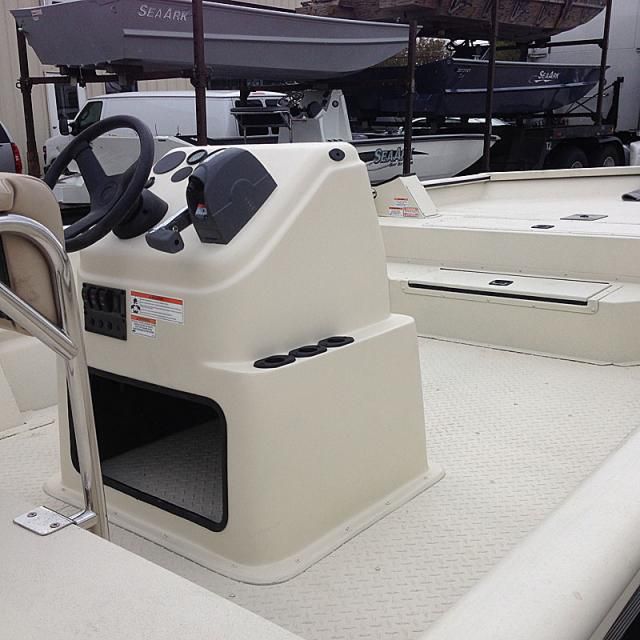 It will probably get either a door on the console for neater looking storage or maybe a storage hatch under the leaning post.
It needs a lot of fish slime.