Saw this boat a couple weeks ago while traveling to a nearby town. It was upside down next to a shed. Looked to be 10,12 ft long from the road so I asked my friend who lived nearby if they knew who owned the property. Turns out she did and after a couple days she texts me saying they would take $200 for it. Worked out perfect since I've been looking for a pond hopper to leave at a friends pond that we're trying to cull the bass out of. Figured his dad and his kids could use it if they wanted to. I agree to the price and went to pick it up yesterday. Turns out it's a 14 footer but is very light for it's length and is much nicer than I was expecting, even had a trailer for it albeit homemade.
So, I've decided it's too nice to just leave there and plan to fix it up a little bit, nothing major. The hunt for the pond boat continues.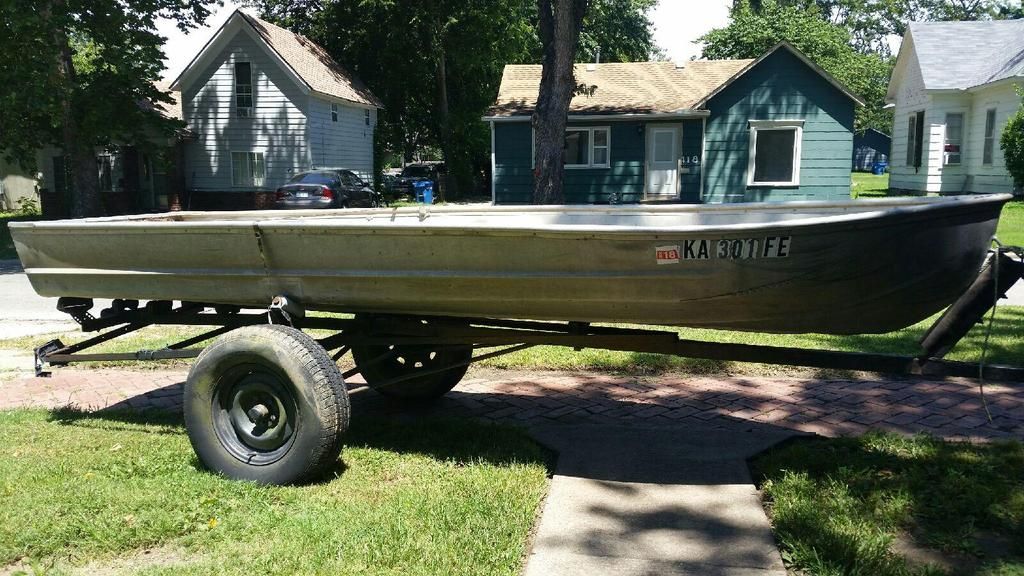 It's been sitting for 6-7 years according to the home owner but they kept the registration up for some reason. Doesn't even need registered here unless it has a motor but whatever. I was about a mile outside of town where I bought it and had a 30 mile trip ahead of me so I pull over to check out the trailer. The tires are already going flat and one of the hubs is too hot to touch
I figured if it acts up I can call my buddy and have him bring a trailer to throw it up onto. But, after ticking off everyone on the highway going 40 the whole way I get home with a few pounds of air left in the tires and the hubs are cool. Not sure why but it doesn't matter because I find a nice trailer for sale on one of those facebook swap pages not 5 minutes after I get home. She wants $150 but the fella that was supposed to meet her never showed up, I offer $100 she accepts and I hightail it before she changes her mind. Has a new jack, winch, wheels and tires, and even has a good spare. Plus, it is the perfect length. Getting lucky this weekend for some reason, must be living right:)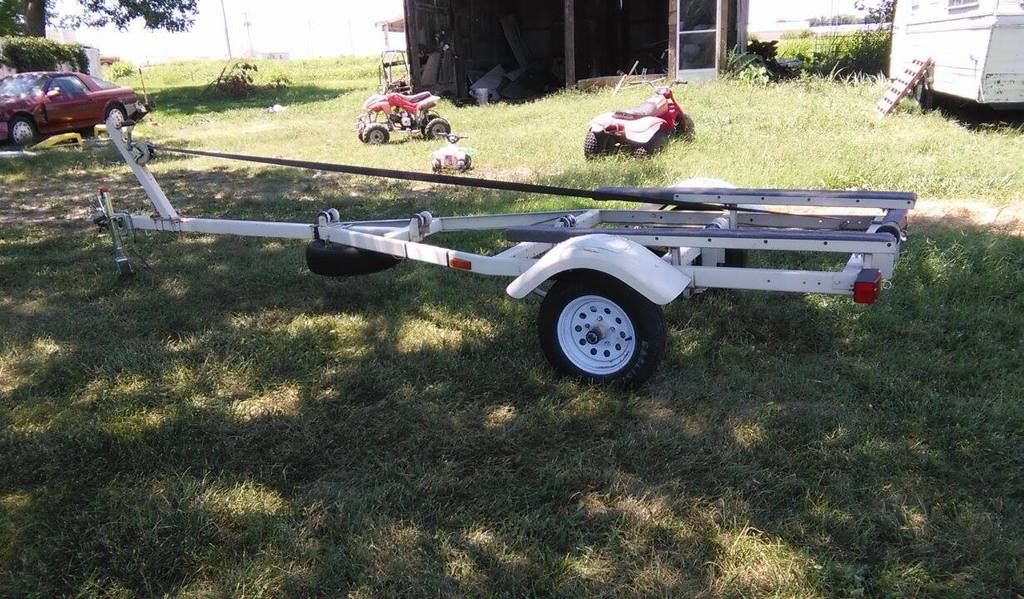 Not going to do anything too serious with it but do plan to paint the boat or maybe polish it, not decided. I do need some advice on setting up the bunks if any one has been in this situation. It has 4 or 5 rollers and one set of bunks. I moved the bunks in one spot and it sits correctly width wise but I'm unsure what height to set them at. Do the rollers and bunks need to be in contact with the hull at the same time, rollers lower, etc. Do I even need the rollers? It had a v bottom on it before.
Also wondering if anyone has a color suggestion. My 1648 was painted olive green but not feeling that with this one. If anyone has pics of their boat similar to this one after they painted it I'd appreciate it. Just think this one could look pretty nice with a good color combo. Thanks for reading and looking forward to your feedback.