As some of y'all have probably figured out with some of my recent and distant posts, I do like older outboards, especially Johnson/Evinrude ones, pre 1960.
So far, my collection is meager, due to me being 15, with an abundance of expensive hobbies (think multispecies fishing, and boat repair). Here are the 4 I have right now.
From left to right: 1948 Johnson 2.5 horse, 1949 Johnson 5 horse, 1936 OMC 4.3 horse. (ignore the messy shop - we are finally in the process of finally getting it organized after having thrown everything in here frantically, from a shop twice as big nonetheless when we moved in a couple years back).
Here is another shot of the '36. It is an odd one, and after having had it for more than a year, and exhausted most of my outboard info sources, I cannot positively identified it. It is clearly labled as Outboard Marine Company, and not Evinrude. However, from what I hear, by the early 30s, no motors were made under the name OMC, and all were under the name of Evinrude. Also, in '36, all the consumer motors were advertised with what they called "hooded power." Basically, it had both an upper and lower powerhead cowl. The books all list it as a 4.3 horse "service twin," so after contacting a few old outboard guru's, the best we can come up with is that it was a motor sold to a large company, in bulk, or to the government, for fleet use, keeping it cheaper than buying the consumer motor with the Evinrude name, and all the fancy bells and whistles.
Here is my 1955 Johnson 3 horse. Tuesday afternoon, I got it running, and still am adjusting the high speed and low speed carb needle valves to get it to run quite right. It is fairly stripped right now, missing the lower powerhead cowl, and the tiller, faceplate, and all the adjustment knobs at the moment (I have them, they are just removed for access to the internals of the motor - everything about this one was in remarkable condition. Most of this era have been used and abused. This one, according to the previous owner, was often forgotten about, and left in a dry barn for the longest time). I am getting the fresh gaskets to rebuild the carb, as well as a new pump impeller to get it running more reliably soon. The electricals on this were perfect. The motor has been sitting for a number of years, but it looks as if the previous owner replaced the coils, points, and all the other ignition pieces right before holing it up.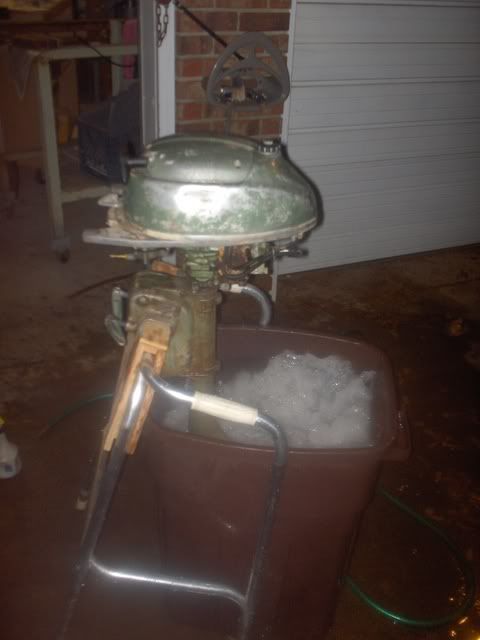 As I get the funds, I will be restoring all of these to new condition, which includes fresh paint, and new decals, plus replacing all the broken stuff (the two from the '40s have broken tillers, and damaged recoil starters). The '36 will be running as well, and I will probably clean it up and polish the brass on it, but I doubt I will go so far as to nickleplate all the aluminum colored pieces, like some collectors do to "old iron" like this.
The 3 Johnsons are plenty practical for constant use as a main fishing motor. If I had a smaller boat, I would have no issue running them as a main motor, as they are plenty reliable, and practical for that. The '36, while it would be reliable, just wouldn't be practical for a main drag motor, as it is real heavy (cast iron powerhead, as opposed to aluminum), and lacks features like recoil start. All of mine will be run on small jon boats, and dads canoe, until I obtain the funds to build/restore a '40s style 12 foot rowboat, either in aluminum or wood (both were common in the post war era).
I am going to keep increasing my collection as funds allow. The three I want right now are an Evinrude Zephyr, which is the worlds first, and still the worlds smallest 4 cyl. outboard. It is a 5.4 horse motor, made from 1940 until '49.
Also I want a 1950 Johnson QD-10 (10 horse). It was the first motor to incorporate a F-N-R gear shift, and an external fuel tank.
Lastly, I am in search of a Chris Craft motor, either the 5 horse Challenger, or the Commander 10, but the 10 is preferred. These were made from '49 to '53, and were an excellent design. Had they not gotten in a lawsuit with Mercury motors in '53, they likely would be one of the popular motor brands existing today, and Mercury (most common motor today) probably wouldn't even be on the map. These Chris Craft motors actually were great racing motors in the mid 50s, and had a consistent track record of beating the mercs, which were known for racing during those times.
I hope to complete the restoration of at least 2 of mine during the spring, and I will certainly post pictures when I do. I will probably have the '55 out on dad's canoe as soon as it warms up, after the carb and water pump parts come in, before I get to restoring the paint and other cosmetics.