Tony was thrilled with his new Moomba cover by Westland Industries and he even took the time to share a picture of this exquisite fit!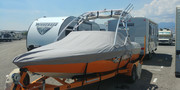 Westland is one of the leading boat cover producers in the industry, making custom and semi-custom boat covers for nearly 40 years. Their library of patterns include boat manufacturers like Alumacraft, Lowe and Smokercraft, but also many unique boat makers you don't hear as much about like Campion, Prince Craft and Spectrum.
Check for the year, make and model of your boat below to see what's available! Can't find your boat? No problem, just send me an email and I am happy to provide you with all of your options, including a TinBoats Forum Member discount!
https://www.boatcoversdirect.com/produc ... /westland/
Maybe you'll be the next customer to get paid for sharing pictures of your new boat cover?
https://www.boatcoversdirect.com/boat-l ... om-covers/
Shannon with Boat Covers Direct
866-626-8377
shannon@coversdirect.com