Hi to all of you on TinBoats.net.
I found this site a few years back but lost track of the site when my old system had a hard crash and corrupted my hard drive.
Back then I was looking for idea's on modifying Aluminum boats for fishing and get a better idea of the pro's and con's by their brands and get ideas before I actually bought a boat. Well now I have just picked up a 1978 18.4ft STARCRAFT Super Sport Bowrider with a 6ft7" beam and a 3.0 Litre,4 cylinder Alpha One inboard based on a 140HP GM Block and attached to an old Pre Gen1 Mercruiser 165 Ratio Outdrive unit with a gear driven tilt mechanism. And everything works. So far I am having one hell of a time properly identifying this model. I can't even match the engine blocks serial number to the Iboats database so I am doubting it's the original engine. But most examples I can find are Outboard based so I don't know if this model has a different model name.
I thought I still had pictures from the ad saved to include here, but it appears I didn't save them and the ad is now gone.
So I will have to take some New pictures this week to post here to help me get a better idea of what I actually have before I start modding it.
My intention is to redo this vintage bowrider into a Multi Species Walleye/Pickerel Boat to accommodate both dual Casting Decks as well as a accommodate deep water trolling.
One of my early idea is to fabricate both bow and stern casting risers out of aluminum square tube topped with aluminum checkerplate decks. And design them to be removed in one piece to allow for a completely flexible configuration depending on my need and also allow for everything to be accessible for service.
I just have to come up with a good quick release setup that allows for the removal of either bow or stern casting platforms as well as way to quickly lock it down to secure it in place. The only problem I see is based on what limitations are created by the inboard engines height and how much clearance the engine and flash arrestor actually needs from the decking. I will update this with pictures as soon as I take them this weekend.
These are some examples I found online that come close in appearance (if anyone has any insight I would appreciate any input)
This first example is even the exact color of my 18.4ft Starcraft...
I'm pretty sure this is the identical model only referred to as a Super Sport.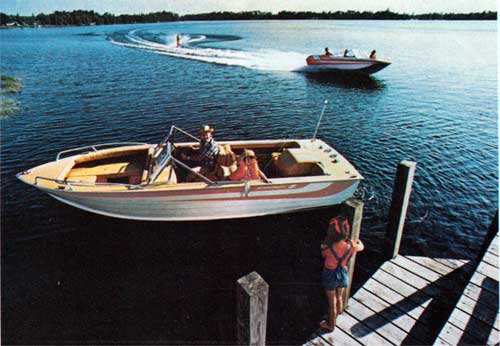 This next one is also the same color, just in a 16ft outboard version and is also called a SuperSport